For the first time in over a decade, some of Pittsburgh's most iconic craft beers will return to the headquarters of the Pittsburgh Brewing Company. For those unfamiliar, Pittsburgh Brewing has had its line of beers produced in Latrobe, Pennsylvania by the team at City Brewing Company (headquartered in Wisconsin) since 2009. That all changed when Pittsburgh Brewing opened a 170,000 square foot production facility along the Allegheny. River.
We recently spoke with Todd Zwicker, president of Pittsburgh Brewing, to learn more about the project and what it means for the local community.
The new brewery is housed in a building originally constructed by PPG in 1883 to make glass for airplanes, automobiles and buildings. The plant even made glass that was used in the first sedans sold with windshields as well as in planes flown by American soldiers during World War II.
In total, the property sits on 42 acres of land overlooking the Allegheny River. The facility will house their brewhouse, farm tank, fillers/packers and eventually their retail space. Pittsburgh Brewing will operate from a 100-barrel brewing system as well as twenty-five 500-barrel fermenters and brite tanks. (Making it arguably one of the largest brewing facilities in Pennsylvania).
What is the actual mass of these tanks (photos courtesy of Pittsburgh Brewing):
This new brewing system will allow Pittsburgh Brewing to not only maintain its annual production base, but also to increase it. The brewery currently produces around 100,000 barrels of beer each year. This new facility will allow them to double that, producing up to 200,000 barrels in a year. (Which is a goal the brewery is aiming for in the near future).
Although the increase in production is primarily for increased demand for Pittsburgh Brewing's staple beers (Iron City, IC Light, IC Mango, etc.), consumers may see a return of past brands as a result of this. expansion. As Todd shared "there is interest in bringing back older brands, but we won't be bringing back a whole bunch of old labels/brands. We will be strategic with what is produced."
A look inside the facility during construction (photos courtesy of Pittsburgh Brewing):
But that's not all. Zwicker went on to share that Pittsburgh Brewing is "working towards brands never released before. No confirmation has been given to us on what new brands might be launched, but the plan is to experiment with new beers as well as expand existing products.
So why the expansion? The brewery isn't necessarily looking to expand a larger distribution footprint, rather its goal is to be more relevant in the markets it already operates in. All of the expected growth will come from the existing distribution landscape, which currently includes 12 states. With 90% of that cast coming from West Virginia, Ohio, Pennsylvania, and Maryland.
Beer will not be the only focus of this installation. The 170,000 square foot space will also house a brewery store, museum, restaurant and even their very own distillery which they name "Iron City Distillery". Why start distilling? As Todd said, having their own line of spirits has always been a property interest and this new space allows them to explore those areas.
Because this space sits directly on the Allegheny River, the brewing company also plans to open its own marina in the future. (No further details are available on this, but keep following for PA's first brewery with its own marina as far as we know).
As of this writing, the space is still under construction. Todd confirmed that the filling and packaging portions of the facility are expected to be operational by June 1, 2022. By the end of June they plan to be 100% online and will begin to move production off of City Brewing in Latrobe. The brewing side of the business is expected to be fully operational by late fall. "We should be selling beer out of this location by June/July"confirmed Todd.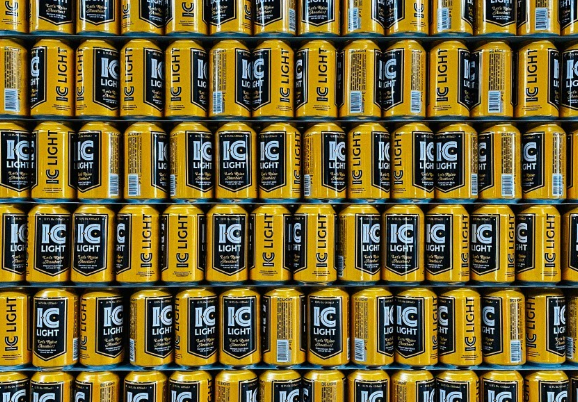 It's no surprise that Pittsburgh Brewing is keeping this space local. As Todd has shared many times, it's "important to support the local community". In fact, some of the brewing company leads are from other Pennsylvania breweries such as Troegs and Brew Gentlemen. Todd then confirmed that "property does this for pride, need, will."
For now, the space will focus on the brewing side of the business. However, keep following Pittsburgh Brewing as they expand into the other business areas mentioned above in the future. You can find them on Facebook and Instagram. And be on the lookout for the official opening of this space later this year.