JThe Headless Mumby Brewing team makes their lagers on-site at 232 Division Street NW in Olympia. In its West Olympia neighborhood, the Headless Mumby Brewing Tavern is a cozy place where families take their kids, bring take-out pizza, and get together to have a good time. Plus, as a lager-only union brewery, currently with an all-female brewing team, it is indeed unique. They even have goldfish crackers and juice boxes.
Among the particular attributes of the brewery is its name. Headless Mumby is the name chosen by its founders from two different stories. Headless comes from the song "Roland the Headless Thompson Gunner" by Warren Zevon, and Mumby was the name of a railroad switch location for an old lumber and cobble mill. Maffeo says he came out of a pool of 25 possible names. Before starting the company, co-founder and owner Alex Maffeo had been brewing beer at home since 2009. Continuing to hone his craft, he joined the South Sound Suds Society, a local brewing club. Maffeo and his founding partner met there and hit it off.
Deciding to start the business in 2016, they hit the road to buy used brewing equipment. Over the next two years, they rebuilt the brewery. The construction of the space was done in-house, with Maffeo in the lead. "I started out in the electrical business and ended up doing HVAC work," says Maffeo. "With the help of friends, we were able to do the whole project ourselves." The interior of the bar was also their creation, from the retro yellow chairs to the light fixtures. Since then they have produced some very unique lagers.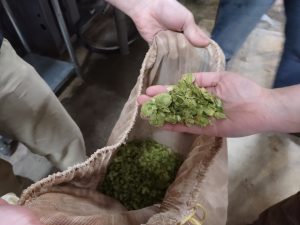 The brewery focuses entirely on craft lagers, bright, fresh and crisp beers. Uniquely, they are one of the few independent breweries in the country to exclusively brew lagers, and the only one in the Pacific Northwest. "There are quite a few breweries in town, and Olympia is known for brewing," says Stacey O'Connor, head brewer. "We wanted to build on that tradition, but what sets us apart from other places in town is that we only brew lager beers. Because we only make lagers, you'll find more of them here than at any other brewery in town. This means that instead of an IPA on tap, there is an IPL. Their India Pale Lager has a floral aroma, is lemony and features different rotating hops. They make a smoky rye lager, described on the menu as having: "a moderate presence of smoky malt. Heavy doses of Munich and rye malts. Noble and subtle hops.
We brew the beer we want to drink," says Maffeo. All beers are brewed on site, from grain to glass. "We only use German malt because it's the best," says Maffeo. "If we are going to invest all this time in a product, we have to make the best of it." Whole leaf hops are used primarily, requiring working with a hop broker during the narrow harvest window in Oregon and Washington. Through the front windows, customers can see the production room where the beans make their way to the kettle, fermenter and tasting room.
Their Local 66 American Lager was created for the Sheetmetal Workers Union Local 66, a connection made through Maffeo's membership. The local asked Headless Mumby to make them a special lager. This started the process which saw the brewery sign with the union, making it the only brewery in North America to be part of the International Association of Sheet Metal, Air, Rail and Transportation Workers. .
The brewery supports its employees through union benefits and by supporting professional development. They connect with the community through fundraising, partnerships and collaborations in addition to attracting neighborhood families to their bar. They are also taking part in the culture of the craft brewing industry by welcoming their first intern from South Puget Sound Community College's Craft Brewing and Distilling Program.
Openness and accessibility are ever-present at Headless Mumby Brewing with their family-friendly, local neighborhood feel. "We have a welcoming and safe tavern," says Maffeo. "It's family. People are welcome to bring whatever food they want. Works great with Vic's Pizzeria across the street. Families bring snacks or offer their children crackers and juice from the dining room. Toys can be picked up at the bar and they are sanitized in the dishwasher for the next visitor. Friday night kegs are also a fun event where the bar puts a five-gallon mini keg on the bar with special ingredients added such as vanilla bean and lemon zest in a German pilsner.
"When people hear 'Headless Mumby'," Maffeo continues, "I want them to think of a welcoming and inclusive place to have a good beer. Olympia Beer left Olympia, but not the lager made in Olympia. We are here and we do it well.
It is the mission of the brewery and the team to be community oriented and a place to gather. Maffeo and the brewery team plan to continue to be passionate about lagers and to share with people throughout the Pacific Northwest that lagers are different and great. For more information, visit the Headless Mumby website.
Headless Mumby Brewing Company
232 Division St NW, Olympia
360.742.3880
Sponsored