JOHNNY ROMEO: THE SERIES
Internationally acclaimed Australian pop painter Johnny Romeo is proud to once again partner with Pennsylvania-based Zeroday Brewing Company for their electrifying new project, Johnny Romeo: The Series.
The collaboration sees Australia's leading pop artist lend his vibrant Technicolor Pop styles to the designs of four unique limited edition tropical IPAs specially brewed for the series. A glorious meeting of kindred spirits, Johnny Romeo: The Series seamlessly fuses the famed pop artist's brash, neon pop kitsch with Zeroday's deliciously adventurous attitude in a special fusion of craft beer and can't-miss art.
Johnny Romeo's relationship with Zeroday dates back to 2017 and 2018 when they collaborated on the hit Ned Kelly Collection, a series of IPAs inspired by Australia's most notorious bushranger. Zeroday is thrilled to reunite with one of the world's greatest voices in Pop Art to create a loving tribute to the innovative spirit of Harrisburg's cultural and brewing community.
Over the course of eight weeks, Zeroday and Romeo will release a special limited-edition four-pack of IPAs every two weeks, each with its own bold, distinct label and combination of bright fruit flavors ("Chaos", "Bully Boy", 'Get Money' and 'Beast Mode'). The "Series Launch Event" will take place on August 19 from 7 p.m. to 9 p.m. at the Zeroday Taproom (925 N. 3rd Street) with the release of the first of four beers as part of 3rd in the Burg, a monthly arts and culture festival that brings downtown and downtown Harrisburg to life and shows the best the city has to offer.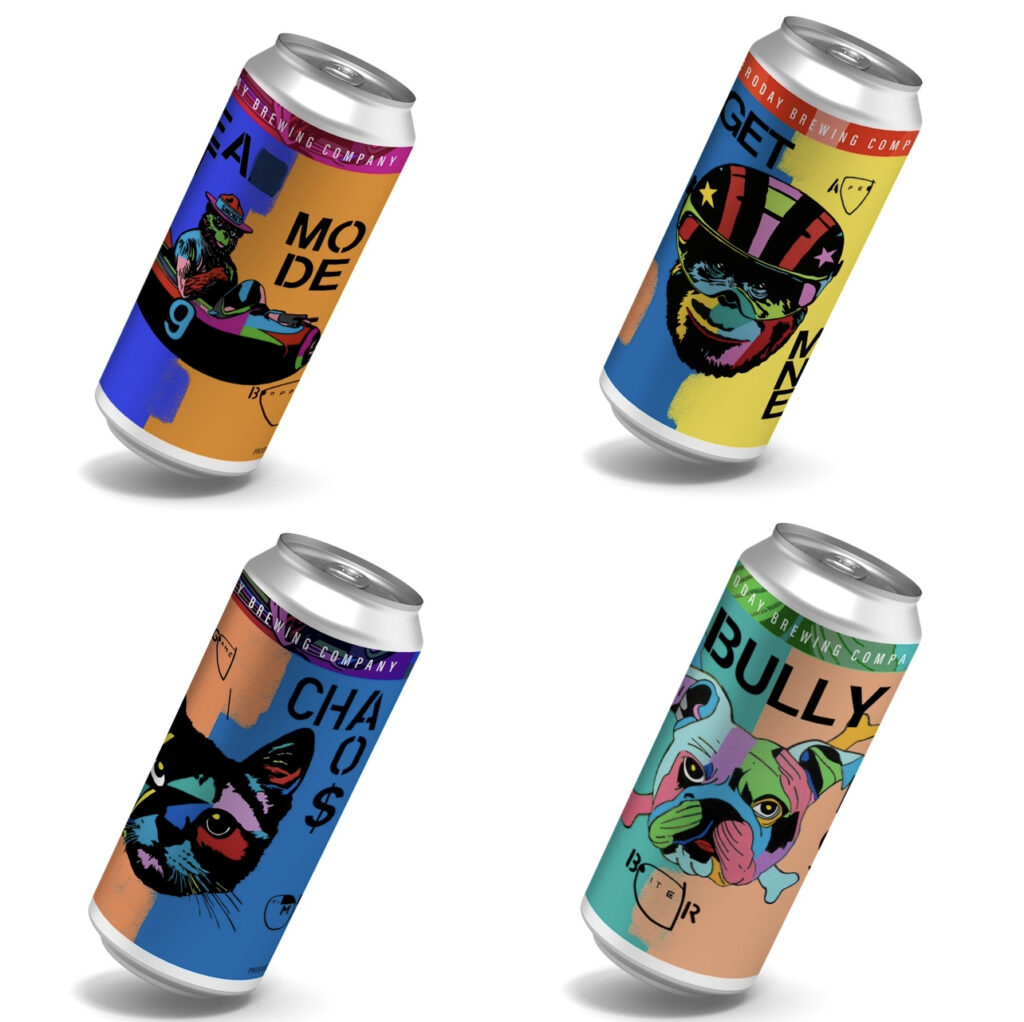 For their latest joint venture, the Australian King of Pop has adapted four of his iconic paintings into frenzied beer labels that perfectly complement the effervescent fruit blends of Zeroday's tropical IPAs. Romeo's colorful, quirky mashups of cartoon and pop culture animals bristle with a wide-eyed wonder that resonates with Zeroday's philosophy of taking a break to explore the side paths life has to offer. These beers with kaleidoscopic candy hues and larger-than-life animal designs, which range from daredevil primates to Bowie space felines, inject an irresistible element of pop energy into the full-bodied, lemony notes of the latest concoctions. mouth-watering tropics from Zeroday.
Bringing together the worlds of art and craft brewing, each Johnny Romeo: The Series four-pack comes with an exclusive high-quality giclée print that matches the beer label. All prints of these high-release IPAs will be signed by Johnny Romeo himself, with lucky collectors able to meet the artist and pre-order future releases at the "Series Kick Off" event at the Zeroday Taproom in Midtown Harrisburg. More than just a commemoration of Romeo and Zeroday's latest collaboration, the accompanying series of prints taps into the dizzying thrill of collecting funky new art and beer.
Brimming with bold, zesty flavors and uplifting and fun Kitsch Pop designs, Johnny Romeo: The Series is a lively celebration of community, creativity and craft beer that is sure to electrify the taste buds of art lovers and beer lovers.